I'm so excited to be reviewing Essentials in Writing, I received the 6th grade curriculum for 11 to 12 year olds to review with my son. The first half of the program focuses on grammar while the second portion focuses on writing.
The grammar portion has a lesson on all the various parts of speech followed by worksheet or two. Most of the worksheets include a summary of the video. This is great for those who do not learn well with DVDs or who prefer to read it themselves. There is then an activity to work on during the lesson.
The table of contents shows a very thorough program and I was really excited to  get started. This was not the case for Jodo. He really doesn't like writing so I was curious as to how he would like the program.
I sat him down and told him to watch the video. The first video is an introduction so I knew he didn't need to complete any workbook pages, so I left him at it. Twenty minutes later he was still watching the video and getting pretty bored at this point. Well, silly mommy was only listening to the video and not watching it with him so he watched like 5 lessons worth of videos. I was expecting the video to stop after the lesson was over but if you hit play it just continually plays all the lessons, duh.
Once a new lesson starts, there's a title that comes on in the video so he knows when to stop watching now.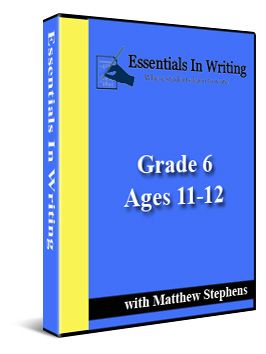 The instructor is clear in his delivery and teaches well. My son likes him, and he is usually very picky when listening to narrators of audiobooks. He will not listen to a book if he does not like the narrator.
That was the first test. My son is not a fan of writing so I was happy to see that the length of assignments was very manageable for him. The grammar portion has a perfect number of examples to complete where my son is able to practice what they are learning without drilling it into overkill.
I really like how the writing portion broke down major assignments into manageable chunks. It first begins with introducing figurative language such as metaphors, similes and personification. It then teaches about the writing process, and teaches the student how to go through the process with a personal narrative. You then do the same thing for an expository essay, persuasive writing and a research paper.
My son has never written an expository essay, but the program breaks down the process into manageable pieces so that the student is not overwhelmed. You brainstorm and form ideas, write a first draft, revise and edit before a finished product is completed. However, each step is broken down so that your child isn't struggling with the amount of writing but working on each skill instead.
I like how the program is laid out, I also like that someone else gets to teach my son instead of me, and he can do it independently as well. I explored the seventh grade curriculum and it looks like it really steps it up next year, this is definitely on my shopping list for next year.
I like that they make use of graphic organizers in the brainstorming phase since my son is a visual learner this works for him. There are some review pages but I would have liked to have seen more. Once you get into the writing section, I know my son starts to get specific terms he learned earlier and had to flip back to the front section of his workbook to check out definitions.
Strengths:
Teacher on video
Short lessons
Organization of lessons
 Workbook on disc – low shipping costs
Weaknesses:
The program has a curriculum for each grade starting at grade 1 all the way to high school, it can be purchased for $40. This will get you 2 cds with the teacher's lessons and another cd with the workbook available as a pdf file. This is great since this decreases shipping costs for me being in Canada. However, you can order a printed workbook from their site for $20 if you prefer not to print it your self.

Disclaimer: I received a free copy of this product through the Schoolhouse Review Crew in exchange for my honest review. I was not required to write a positive review nor was I compensated in any other way. All opinions I have expressed are my own or those of my family. I am disclosing this in accordance with the FTC Regulations.