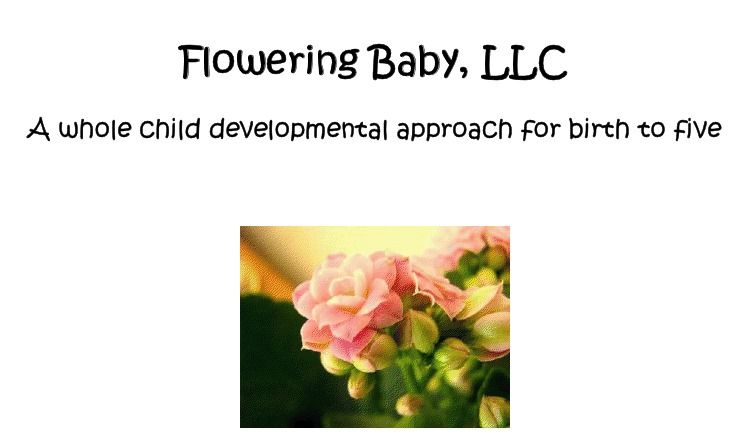 I received the entire Flowering Baby curriculum from birth to 5 years old:

After looking at the one to two year old curriculum I decided that I'd back track and go through the 9 to 12 month old section in the birth to one year old curriculum. At 13 months old, there is an activity where you tape masking tape to the ground and get your child to control their steps along it. Since my baby hasn't taken any steps yet, I decided to use the earlier curriculum.
The curriculum is broken down into months with suggested books, supplies and music listed before each month. Each day there is a different activity that may take about 15 minutes to complete.
The listed supplies for this section include things that can be easily found around the house such as tape, picture book, boxes and gift wrap, crayons, paper, puzzle, dried beans or rice, blocks, flashlight. I do not have stacking rings or an exercise ball.
Some of the suggested books include:
Freight Train
Goodnight Gorilla
Harry the Dirty dog
Have You Seen My Duckling?
The Little Mouse, the Red Ripe Strawberry
The Runaway Bunny
Things that go
Very Hungry Caterpillar
I wish that they had listed the authors along with the book titles, so that I would know for sure if I had the right book.
I didn't purchase any books but use the library extensively. I was able to find most of the titles but also made some substitutions as well.
There is one activity to complete each day then there is a suggestions to either read a book or listen to classical music for 15 minutes.
The first activity required finding materials around the home that had different smells so I gathered up some baby powder, cinnamon, vinegar, and chocolate to let Princess have a smell. She did not want to have any part of it.
Other activities include:
playing with spatulas and pots and pans
playing with wooden blocks
drawing with big crayons
allowing baby to explore a new rooms or hide toys for baby to discover
The activities don't take more than 15 minutes. I like that there is something new to try with baby everyday. It is very open and go and easy to substitute items that you have around the house.
The main goal of the curriculum is to foster the development of a well rounded child. Some times they speak about an issue and don't really give an activity, like when they talk about separation anxiety and suggests that you reassure the baby and let them know you are there for them.
Most of the activities involve introducing your baby to something new, like helping them fall backwards (onto pillows of course), trying new toys, hiding them, getting them to balance or dancing with them.
There are a wide variety of suggestions but also things that parents would usually have attempted one time or another.
There's usually a suggestion to sing a song then read a book or listen to a composer. There isn't very much information other than read this book or listen to this composer, and they do suggest reading the same book more than once.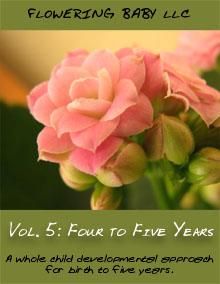 I also have a newly turned 5 year old so I decided to use the 4 to 5 year old curriculum. There were two version of the curriculum that differ in organization. One is organized by time ie. it is broken down into daily activities for your child. The other is organized by theme. There are 10-15 activities per month and it is suggested that you complete 2 to 3 themes per month.
An example of a day in February:
Practice writing the letter Y and find words that begin with Y
count from 1 to 50
Read Curious George and the Firefighters, discuss fire safety, and have a fire drill
read The Snowy Day, there are questions in the appendix about the story and suggested activites
use watercolours to paint a picture, and discuss effects of watercolours
listen to music of the month – this month is country
Spanish – ask them what Spanish words they remember from the story
I do like that there is a variety of activities and it aims to cover reading, writing, math, art, languages and music. There are also several science experiments as well.
We didn't do Spanish since we are learning french here so I got a fun reader for us to read instead.
We completed the winter theme since we are in Canada and of course we're in the middle of winter. I had already been working on a winter theme study for Cuddly.
The theme portion has suggested books at the beginning of the unit and they each day there is an activity or two related to that that them after reading a book.
Here he made a snowman and covered it with tissue paper. I'm not really sure why he has a sad face and tears, but Cuddly thought it was very necessary.
It was suppose to be made out of styrofoam balls but we didn't have any so we made it out of construction paper instead.
I also like that it's easy to tweak, if I can't find the specific book it mentions, I can easily supplement a book available in my library.
My boys also had fun playing in the snow and building a real snowman.
The themed unit was 5 days long. It's a good supplement to the daily activities listed.
I thought the birth to one year old curriculum provided a lot of varied activities to do with your baby that were fun but I felt like some of the activities were things mothers naturally do with their baby anyways. But that could be just me.
I like the daily activities in the 4 to 5 year old curriculum and found that the program was fun and definitely easy to implement. It suites me as a homeschooler because I don't like particularly strict schedules or instruction. I always have to tweak things according to what I have available and what books are available at our library and this program allows us to do that.
If you are more a box checker and need more thorough guidance, this wouldn't suite you. The themes portion is more open and light. I like the daily activities better but it is a nice supplement to the program if you'd like to study a particular subject of interest to your child.
The first 3 levels, birth to one, one to two, and two to three years old are $30, while the four to five year old level is $38. You can purchase the entire curriculum from birth to 5 years old for $132.
If you would like to place an order use the code "Blog10" to get a 10% discount.
 To read other reviews visit the Schoolhouse Review Crew.

Disclaimer: I received a free copy of this product through the Schoolhouse Review Crew in exchange for my honest review. I was not required to write a positive review nor was I compensated in any other way. All opinions I have expressed are my own or those of my family. I am disclosing this in accordance with the FTC Regulations.