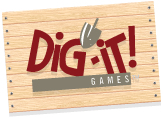 I had the opportunity to review Mayan Mysteries from Dig-it Games, my son was super excited. We are not studying the ancients period but my son loves reading about that historical period.
The set up was super easy and we had no technical issues beginning the game.

I just let my son at it to explore and figure the game out. It was pretty self-explanatory. He loves video games so he's a natural when it comes to this stuff. It definitely takes me a lot longer to figure out the objectives of a game, not him though.
In the beginning there is a long introduction with a lot of reading. Once he began the game where they clicked on different characters and then completed a task or quiz, my son just skipped over the reading material and then found that he could not answer the quiz.
He then had to go back to read through the material to ensure that he understood the question.
I saw him do this but didn't say anything as I wanted him to figure it out.
The questions stayed true to the material and some of them were quit interesting.
This is not a video game with only fun in mind, the purpose of this game is to teach. In doing so there is a lot of reading. I thought this was going to deter my son but it actually did not.
He looked forward to playing each time.
When he got to the Mayan math questions, he got frustrated so I had to sit down with him to help him figure it out. It just involved some multiplication using the Mayan bartaring system, which was cool. At least I thought it was.
The only complaint my son had about this game was that it was too short and you don't actually get to solve the mystery. You have to wait for Mayan Mysteries 2.
This left me feeling incomplete but my son has been asking me about buying him the next one, so he must really like it.
The game is suitable for 10 year olds and older, and is $21.99 for a single user license to the online subscription for one year.